February 10, 2022
Friends,
We are in our fourth week of the 2022 Session and committees in the Senate and House have had full dockets with robust debates on numerous bills daily. Believe it or not, we are only about a week from the mid-point of Session, known as Crossover.
Most of the bills that I have patroned this year have been heard in committee, some favorably and some unfavorably. On Thursday, I presented one of my top priorities this year: an expansion to our charter schools laws in the Commonwealth. I want to thank Education Secretary Amy Guidera for testifying in support of my bill.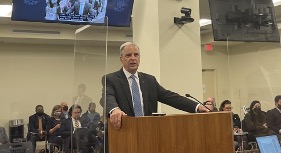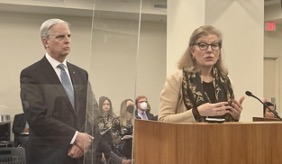 It's unfortunate that my colleagues were not amenable to my bill. A few weeks ago, I described the work I was doing with Governor Youngkin to give more flexibility to schools and teachers and families. Last week, the Senate Education and Health Committee voted 8-7 to defeat the bill. One Democrat Senator, Lynwood Lewis, broke ranks and supported the bill. If you would like to read my statement about the bill's failure to pass, please click here.
I also carried a bill to repeal the pro-union legislation allowing the government to close bids to all but union shops and repealing last year's bill allowing unionizing or collective bargaining for public employees. With a Commerce and Labor Committee stacked with twelve Democrats and three Republicans it was no surprise that the bill failed. This was another bill with which I was working with Governor Youngkin to ensure that employees are not forced to join unions and contractors are not forced to pay inflated wage rates in public contracts. The primary effect of last year's legislation was to allow large out-of-state contractors to compete for and win contracts from Virginia businesses. To read the bill, click here.
SB 122 (click here to read it) is a bill about which I care deeply. This is known as Caleb's Law and would have created an involuntary manslaughter (felony) charge for any person who kills the fetus of another accidentally, contrary to the intention of the parties and while engaged in conduct so gross, wanton, and culpable as to show a reckless disregard for human life. This bill was brought to me by a Rockingham County woman who survived a horrible automobile accident, caused by a man fleeing police. Tragically, because of the accident, she lost her son with whom she was six months pregnant and would have been named Caleb. Under current law, if Caleb and his mother had both died in the accident, the perpetrator could have been charged with two counts of homicide. But because the mother lived, the Commonwealth's Attorney's only option was to charge the perpetrator with two counts of malicious wounding. I believe that the prosecution in cases like this should be able to pursue an involuntary manslaughter charge. What happened to Caleb and her mother is devastating and I hope that this bill will rectify this unjust inconsistency in our law. To read more about this legislation and Caleb's story please click here.
Caleb's mother, Taylor, was brave enough to testify in front of the Committee with a moving account of her experience. If you'd like to listen to her testimony, click the video below.
The bill was reported from the Judiciary Committee and is headed to the Finance Committee for further evaluation.
If you wish to see the full list of the bills I am introducing this year, click here.
Recently, we welcomed several groups and individuals to our office – both in person and virtually. Some of our visitors included advocates from the Virginia Farm Bureau, Shenandoah Valley and Rappahannock Electric Cooperatives, Virginia Dental Association, and members of our local school boards.
We also met constituents who visited on behalf of the Virginia Charitable Gaming Council and my good friends John Shaffer from Luray Caverns and Debbie Donehey, Rappahannock County Board of Supervisors member and owner of The Griffin Tavern in Flint Hill.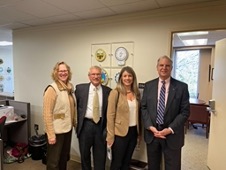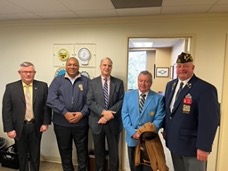 And finally, it was great to catch up with my good friend Dr. John Downey as well as ambitious and driven students from Blue Ridge Community College.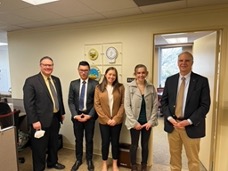 If you would like to meet with me or my office representatives, please email me at [email protected] or come by our office in the Pocohontas Building, office 502E.
I'll have another update next week so stay tuned. As always, it's my honor to represent the Shenandoah Valley in the Senate of Virginia.
Best,

Mark Obenshain