Fox News: Democratic lawmakers caught on hot mic mocking parental rights as 'garbage,' 'stupid'
April 27, 2023
Two Democratic lawmakers in Virginia were caught on hot mic last week mocking parental rights as "garbage," "crap," and "stupid," according to two recordings posted on social media by the Republican State Leadership Committee (RSLC).
On the recordings, which were taken at a Friday meet-and-greet at Christopher Newport University, state Sen. Monty Mason and state Del. Shelly Simonds can be heard ripping Republicans over S.B. 1515, a bill that required pornography websites to verify a user's age to be at least 18 before allowing access to its content.
They also slammed an amendment to the bill proposed by Republican Gov. Glenn Youngkin that would have required children to get permission from parents to set up social media accounts and use websites that collect user data, such as online shopping sites. The bill passed the state legislature, but Youngkin's amendment was rejected.
"Well, there are three real bills that were of consequence: the hemp bill, offshore wind adjustment that we ended up [inaudible] not even discussing, and the one he slapped — that online parental garbage on pornography bill," Mason said on one of the recordings, referencing a number of bills previously brought up in the legislature, including S.B. 1515.
He went on to describe the idea of requiring an extra step in the online shopping process to verify a buyer's age as "stupid." "What are you sending, a letter?" he jokingly asked.
In the second recording posted by the RSLC, Mason claimed there was "no practical application" to Youngkin's amendment to the bill, and accused Republicans of playing politics by running digital advertisements against Democrats following the amendment's rejection.
"I mean, it's just all a part of this parental crap that they're selling," he said, before Simonds chimed in and tied the issue to her desire to keep the Democratic majority in the state Senate.
"This is why we have to keep the Senate… because the House is in the hands of the Republicans, and they can push through all kinds of stupid things. We rely on the Senate to kill it all," she said.
The dismissive approach from the two Democrats toward parental rights comes less than a year and a half after Youngkin's shock victory over former Democratic Virginia Gov. Terry McAuliffe in the state's 2021 gubernatorial election. Parental rights in education took a central role in the race amid rising concern over the teaching of critical race theory and other "woke" subjects in schools.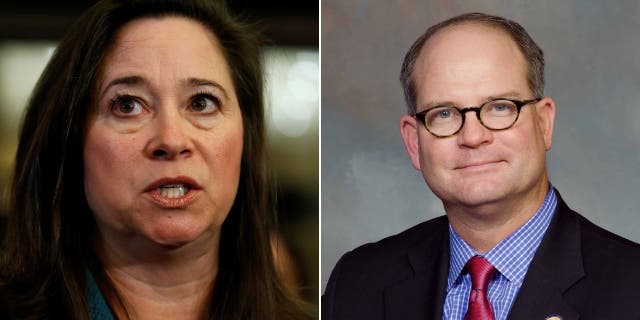 Virginia Democratic state Del. Shelly Simonds and state Sen. Monty Mason. (Reuters/Virginia State Senate)
That concern led to a revolt against Democrats by suburban parents in Northern Virginia and around Richmond, despite trending towards the party in recent elections. It's unclear why Democrats would continue down the same course on such issues despite that election's outcome.
Fox News Digital reached out to Simonds and Mason for comment but did not immediately receive responses.